Birger Sandzen - Biography
Sven Birger Sandzen was born February 5, 1871 in Blidsberg, Sweden. After studying in Sweden at College of Skara—where he received significant instruction from his drawing teacher Olof Erlandsson—and later at the University of Lund, Sandzen went to study in Paris. It was in Paris where he was familiarized with Impressionism and American artists. While in Paris he learned from artists Anders Zorn and Richard Bergh, and built strong relationships with both. Eventually, he emigrated to Lindsborg, Kansas which he considered "home" for the remainder of his career.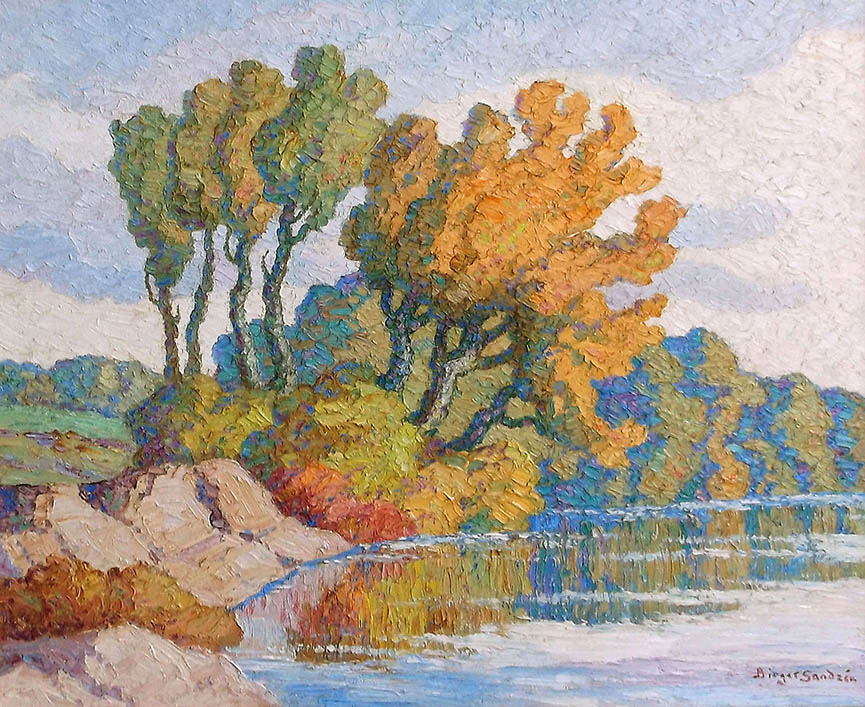 "Riverbank, 1942"
Oil on board, 25 x 30 inches
SOLD

Young Sandzen moved to Kansas in 1894 to teach at Bethany College as the head of the school's art department. For his entire career, he balanced being an art professor as well as a practicing painter. Sandzen remained on the faculty until 1946, teaching drawing, painting, Swedish, French, and more.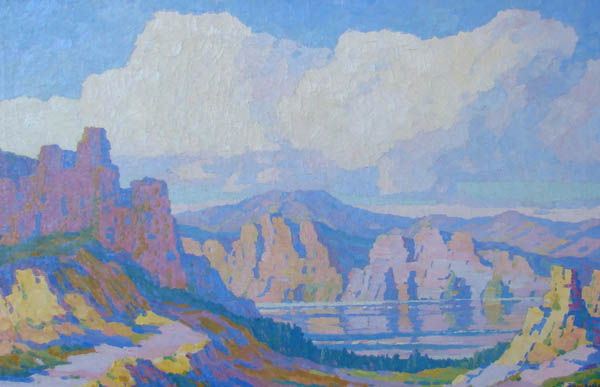 "Utah"
Oil on board, 23 x 36 inches
SOLD

In addition to Bethany College, Sandzen taught at different schools around the country throughout the years including Broadmoor College in Colorado, Utah State University, and University of Michigan.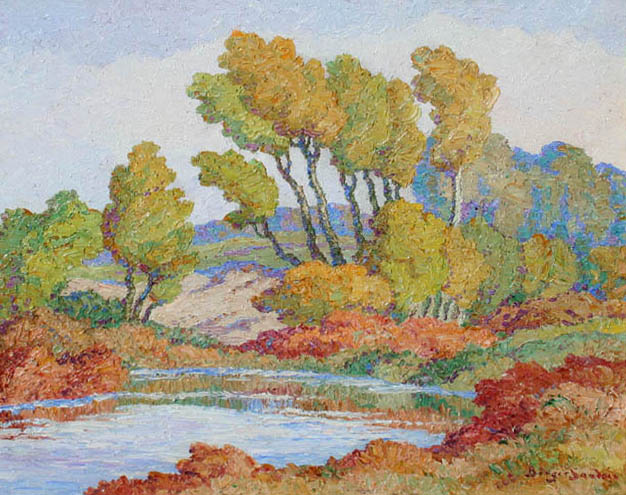 "Autumn, Bennington, Kansas, 1942"
Oil on board, 25 x 30 inchess
SOLD

Following his move to America, there was a drastic change in his artwork. His previous work had been much more subdued. His new, natural surroundings were very different than what he was used to seeing back in Sweden. The new environment engaged Sandzen's creativity in new ways. Prairies, the rugged mountains, sunlight, and the abundance of trees and wildflowers were illustrated in bold, bright colors and thick, textured brushstrokes; a rather fauvist approach.

Landscapes being the main topic of Sandzen's work, he traveled often to Colorado when he fell in love with the Rocky Mountains. Many of his pieces are a result of his creative perception of this rugged landscape. He was also very inspired by the areas near his resident town in Kansas. Places such as Smoky Hill River valley and Red Rock Canyon fueled his attraction to the vibrant hues that appear in his painting. Southwest regions such as New Mexico and the Grand Canyon in Arizona were also common subjects for his work.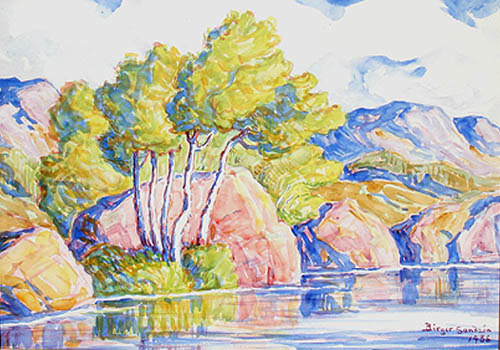 "Smoky River Watercolor"
Oil on board, 23 x 36 inches
SOLD

Sandzen was also influenced by Chinese art and credits his appreciation back to a woman he had known as a child in Sweden who had owned pieces by Chinese artists. He recognized their great understanding of nature's influence and their ability to interpret and convey it in their artwork.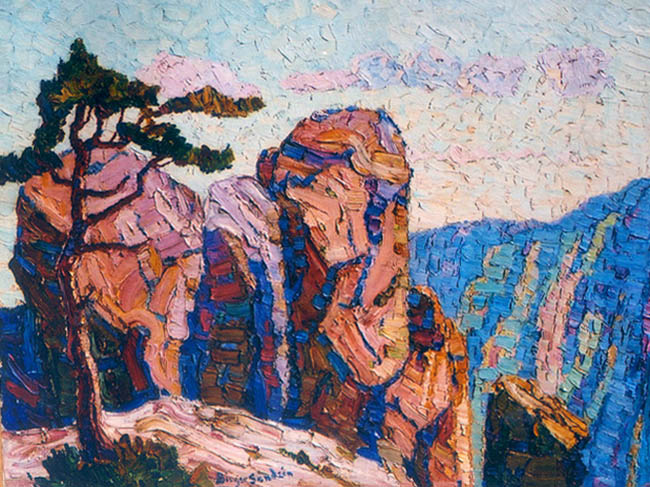 "Edge of the Range"
Oil on board, 36 x 48 inches
SOLD

While Sandzen is known for his beautiful, vibrant, unique oil paintings and water colors, the artist also did hundreds of lithographs, block prints and dry points. In addition to his landscapes, the main subject of these works, he did quite a few portraits and still lifes. Although color was not present in these drawings and prints as it was in his paintings, his unique brushwork and stroke is still very much evident and consistent throughout.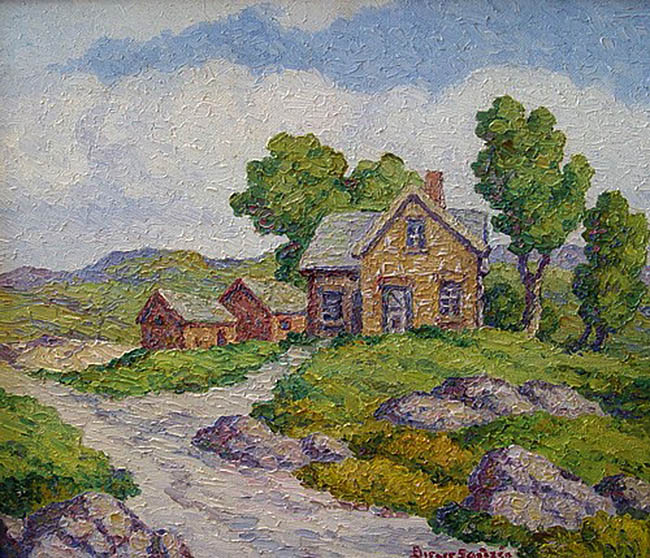 "Once a Home"
Oil on board, 20 x 24 inches
SOLD

Birger Sandzen immersed himself in art and displayed a true dedication to the subject throughout his life. He was an exceptionally well-versed artist, linguist, and individual who is recognized for his achievements and influence. Sandzen left behind a distinguished collection of work from all aspects of his career. Certainly, his noted landscapes stand out as unique depictions of the abundant and varied environment found throughout the Midwest and Southwest. They remain prized to this day.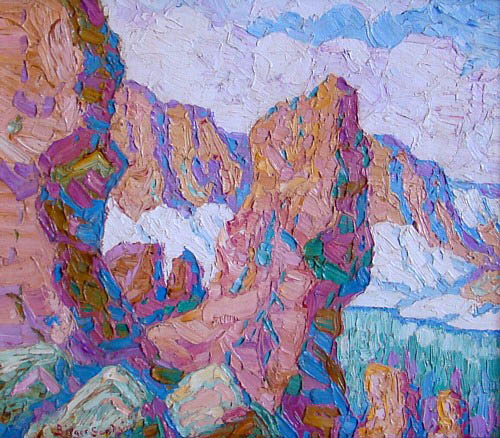 "Iceberg Peak, Colorado State Park, 1930"
Oil on canvas, 12 x 14 inches
SOLD

Today, Sandzen's work can be found in museums around the world, such as Birger Sandzen Memorial Gallery in Lindsborg, Kansas; Denver Art Museum; Museum of Modern Art, Stockholm; Brooklyn Museum of Art, Metropolitan Museum of Art, among many others. Sandzen passed away in his home of Lindsborg, Kansas on June 22, 1954.